Keyaki Republic

   Date: 23.07.2018 22:07
Summary: Keyaki Republic, Ambivalent Senbatsu
   Tags: keyakirepublic, ambivalent
    Url: https://www.keyakizaka46.com/s/k46o/diary/detail/16497?ima=0000&cd=member
Were you able to enjoy Keyaki Republic?
Open air is great, isn't it?
Compared to last year, we were able to level up our live and all, and we had a lot of fun🧜🏼‍♀️🍓
Sorry for spraying so much water.
Please be careful to not catch a cold.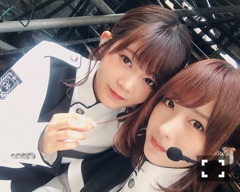 So cute when Ozeki pinches my hair in this shrewd way♥︎
┈┈┈┈┈┈┈┈┈┈┈┈┈┈┈┈┈┈
At the opening and ending this time,
we collaborated with many more dancers than us to do a show as a group.💂🏻‍♀️🎌
They also came to practice with our teacher.☺︎
Walking and synchronizing your breath with the person next to you.
Walking and being aware of your head and fingertips.
Moving was harder than I expected.
We struggled in many ways, but we were able to do one excellent performance in front of everone.
I feel like thanks to that, my back got healed as well.
┈┈┈┈┈┈┈┈┈┈┈┈┈┈┈┈┈┈
After that
At the double encore on the last day,
we announced the 7th [single] "Ambivalent!"
We also announced it on last night's Keyakitte Kakenai. This time, I will do my best as one of the front members too.
There's only five people in the first row. I am super surprised myself that I got chosen.
But
In order to leverage the things that I have been doing up until now,
I will try my best the way I am.🐺🔥
So thank you for your continuing support!
Next up is the nationwide summer tour💗💗💗
Let's have fun!☺︎
---
Japanese Original

欅共和国楽しんでいただけましたか?

やっぱり野外っていいですね

去年よりもパワーアップした演出などもできて私達も楽しかったです🧜🏼‍♀️🍓

沢山水かけちゃってごめんね

どうか風邪だけは気をつけてくださいね

ちゃっかり髪の毛つまんでる尾関可愛い♥︎

┈┈┈┈┈┈┈┈┈┈┈┈┈┈┈┈┈┈

今回のオープニングとエンディングでは

私達より人数の多いダンサーさんとコラボさせて頂いて、集団行動を披露しました💂🏻‍♀️🎌

練習のときには先生にも来て頂いたんです☺︎

横にいる人と呼吸を合わせて歩く。

頭のてっぺん、指先まで意識して歩く。

想像していた以上に動きが難しくて

いろいろ苦戦したけど本番みんなで一つのものを作ることができて本当に良かったです

そのおかげか猫背も治った気がします(笑)

┈┈┈┈┈┈┈┈┈┈┈┈┈┈┈┈┈┈

あとは

最終日のダブルアンコールでは

7th【アンビバレント】を初披露したよ

昨晩の欅って書けない?でも改めて発表されたのですが今回もフロントメンバーとして頑張ります。前列が5人しかいない中、選んで頂けたことが凄く自分自身でもびっくりしてる

けど

今まで吸収してきたものを生かせるように

自分らしく頑張ります🐺🔥

ので応援よろしくお願いします!

次は夏の全国ツアー💗💗💗

楽しもうね☺︎



---