Incense Stick Sisters
   Date: 09.08.2018 09:57
Summary: Room 302
   Tags: ambivalent
    Url: https://www.keyakizaka46.com/s/k46o/diary/detail/16805?ima=0000&cd=member
The MV has been released
Because this MV shoot used a drone, you can take a glance at what the home of the two people is like, you can pass right besides us, you can go back and forth between our feet. I got all excited when thinking that people are surely going to like it.☺︎
It's my absolute favorite song and MV.
We were able to eat watermelons, eat Soumen (I didn't do well laugh) do fireworks, and we could wear Yukatas,
we were truly able to do many summerish things. It was all done in one day, but from morning until night, Yui-pon, the directors, and I had a lot of fun producing it with everyone else at the staff. The day was over in the blink of an eye.🍧
After all, actually making it was the most fun because it's something that we produced together with everyone who was at the scene.♡ Also, when watching the finished product with Yui-pon, we were saying "I want to watch it again" over and over. That's how it became my favorite.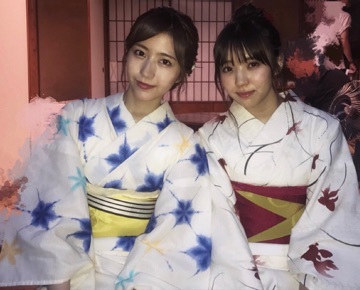 Which one is the older sister and which one is the younger sister? laugh
┈┈┈┈┈┈┈┈┈┈┈┈┈┈┈┈┈┈
This time the director was 月田茂, the same as for Nogizaka46's "Karaage Kyoudai," so it seems likely that he gave us the name "Incense Stick Sisters" for our unit.☺︎
To why "incense stick sisters?" I'm sorry to say that I couldn't ask about that, 😤 I will try to ask him about that when we meet again sometime!
And then, it seems like the number in the song's title "Room 302" just came to his mind when he saw us. I was thinking that Akimoto was surely writing the lyrics in room 302 at that time. laugh
Besides, there's still a lot I want to tell, so I hope that I can gradually tell the rest in various places in the future.
http://www.hmv.co.jp/newsdetail/article/1808081015/
They are also doing a special limited edition lottery, please be sure to take a look!
---
Japanese Original

MV公開されました

今回の撮影はドローンを使った撮影なので

2人のお家がどんなお家なのかとか見れたり

真横を通り過ぎたり、足の間を通って行ったり

きっと見てくださる方にも楽しんでいただけるんじゃないかなと思っていてわくわくでした☺︎

凄く曲もMVもお気に入りです

スイカを食べたり

お素麺を食べたり(上手にすすえなかった 笑)

花火をしたり

浴衣を着させていただいたり

本当に夏らしいことを沢山させて頂いて。

まるまる1日の撮影だったんですけど

朝から夜までゆいぽんと

そして監督さん、スタッフの皆様と楽しんで作ることができて時間があっという間でした🍧

やっぱり1つの作品はそこにいる現場の皆様と

力を合わせてみんなで作るものだから

楽しくできたことがなによりで♡

出来上がりを見させていただいた時も

ゆいぽんと「もう一回見たいでーす」と

ずっと言ってました。そのくらいお気に入り

どっちがお姉ちゃんで妹かな?(笑)

┈┈┈┈┈┈┈┈┈┈┈┈┈┈┈┈┈┈

線香姉妹というユニット名は、今回監督さんが

乃木坂46さんの『からあげ姉妹』と同じ

月田茂監督だったので

名付けてくださったみたいなんです☺︎

なんで線香なのかまでは

残念ながら聞けてないんですけどね😤

またいつかお会いできたときに聞いてみます!

そして曲名の『302号室』は私達を見て

ぱっと思い浮かんだ番号だったみたいです。

てっきりね、秋元さんがそのとき、302号室で歌詞を書いてくださってたのかな?って思ってました(笑)

他にも話したいこと沢山なので

続きはこれからいろんな場所で徐々に

お伝えできたら嬉しいです

http://www.hmv.co.jp/newsdetail/article/1808081015/

HMV限定 抽選特典も行なってるので

是非見てみてください!
---