Glimpse
   Date: 16.09.2018 09:14
Summary: Banana milk, manga nerding out with Yukka, GirlsAward
   Tags: 
    Url: https://www.keyakizaka46.com/s/k46o/diary/detail/17378?ima=0000&cd=member
Good afterning,
Even if you were to ask about my favorite drink, I didn't really have one.
However, I noticed that I like banana milk.
It's good that I realized that, but they don't sell banana milk a lot, right?
Even though there's strawberry milk, there is no banana milk.
Certainly, in my heart, strawberry milk is cuter and even the look of the characters is cute.
I think I want to cheer for banana milk as well.
This is Kumi Sasaki.
The commercial for Shueisha's digital Manga "Aki-man!!2018", with Takamoto, Kosaka, Matsuda, Miyata, and me from Hiragana Keyakizaka, which started on September 11th, has come out. Furthermore, they play "Happy Aura" as the campaign song!!
It is a little late for this notice, ... I wonder whether those who have already seen it have [come] 🙉?
Since I grew up with manga, I really like it.
I'm really glad that I can do work like this right now.
Furthermore, they made it so you can read the manga recommended by us members on the site, so be sure to check it out!😳🔥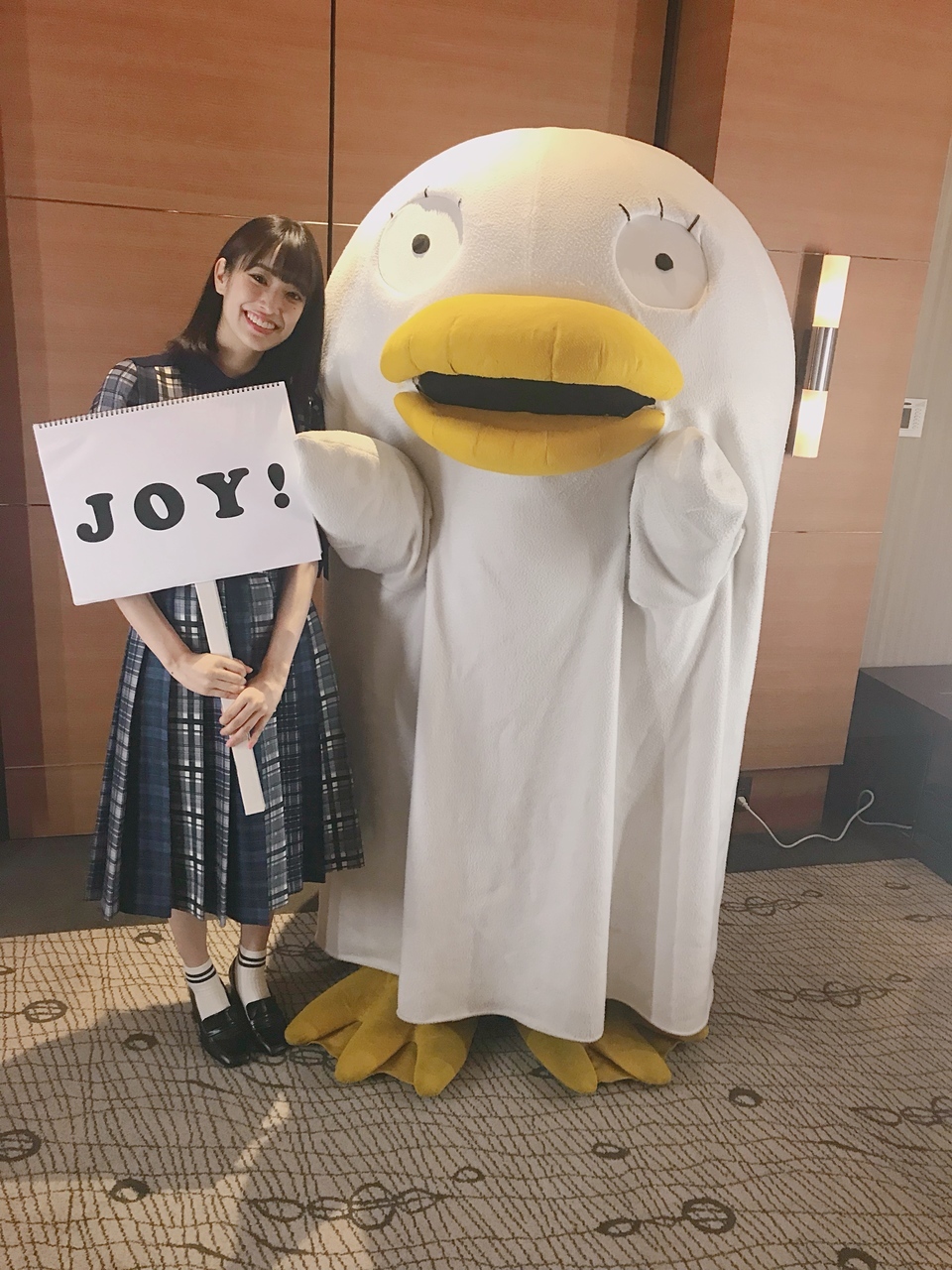 I could also meet Elisabeth〜〜💘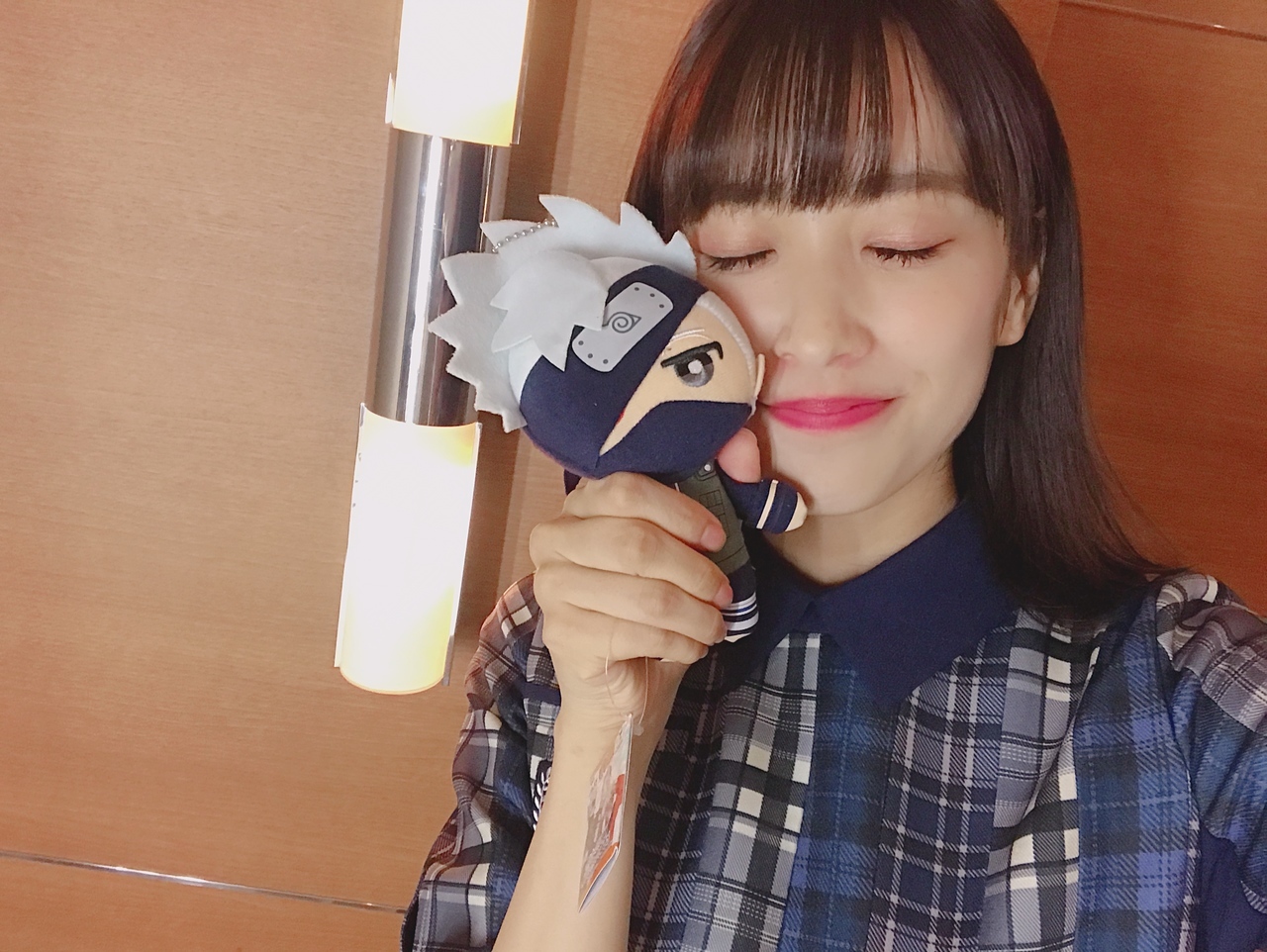 I received Kakashi-sensei!
In NARUTO I really like Kakashi-sensei and Kamaru.
But, of course I also like Naruto.🍥
I also like Minato.
I felt like I had somehow turned back into a senior high student when we all wore the same school uniforms for the photoshoot.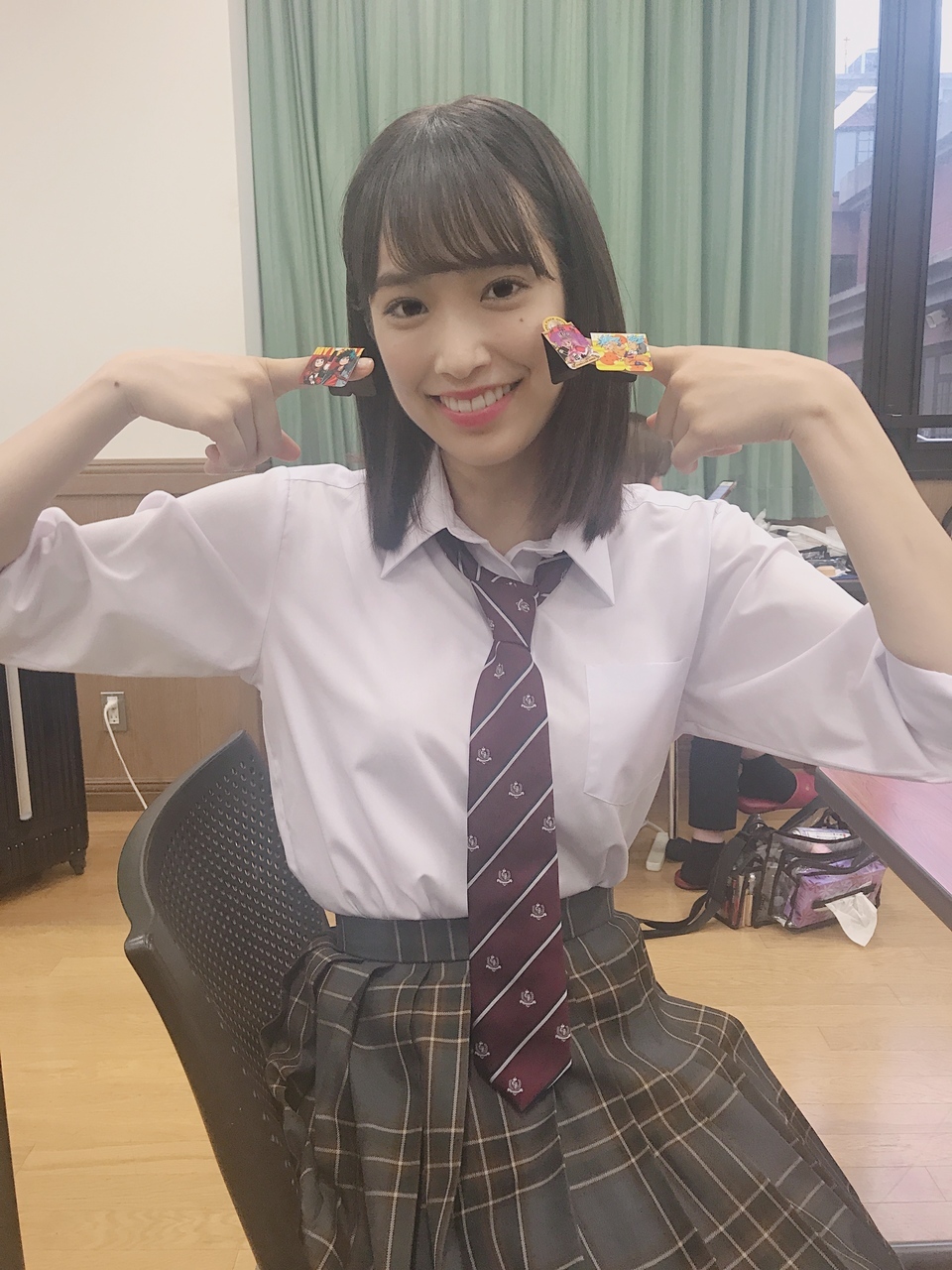 JUMP character magnets💕
That manga-loving me has finally gone to [Nengan JUMP] together with Yukari. 👼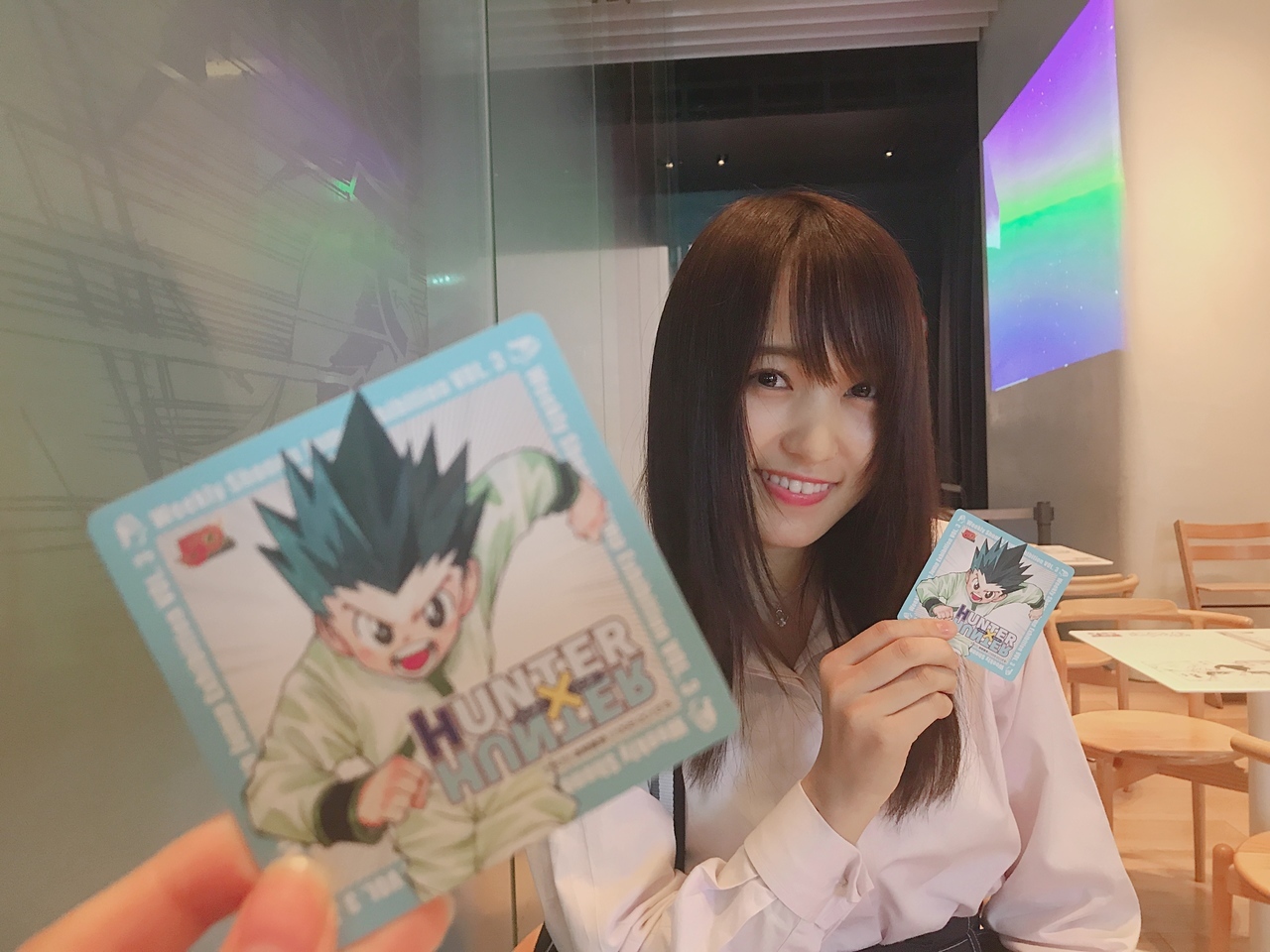 The Yukari sitting at the HUNTER x HUNTER meetup looks just way too cute. 😚😚
Then, all of a sudden, we also met Buu-chan and Manamo.
That's why we took this commemoration photo.
Already from the moment we had entered, we couldn't stop being excited and I want everyone else to definitely go there as well!!!
That's all that matters.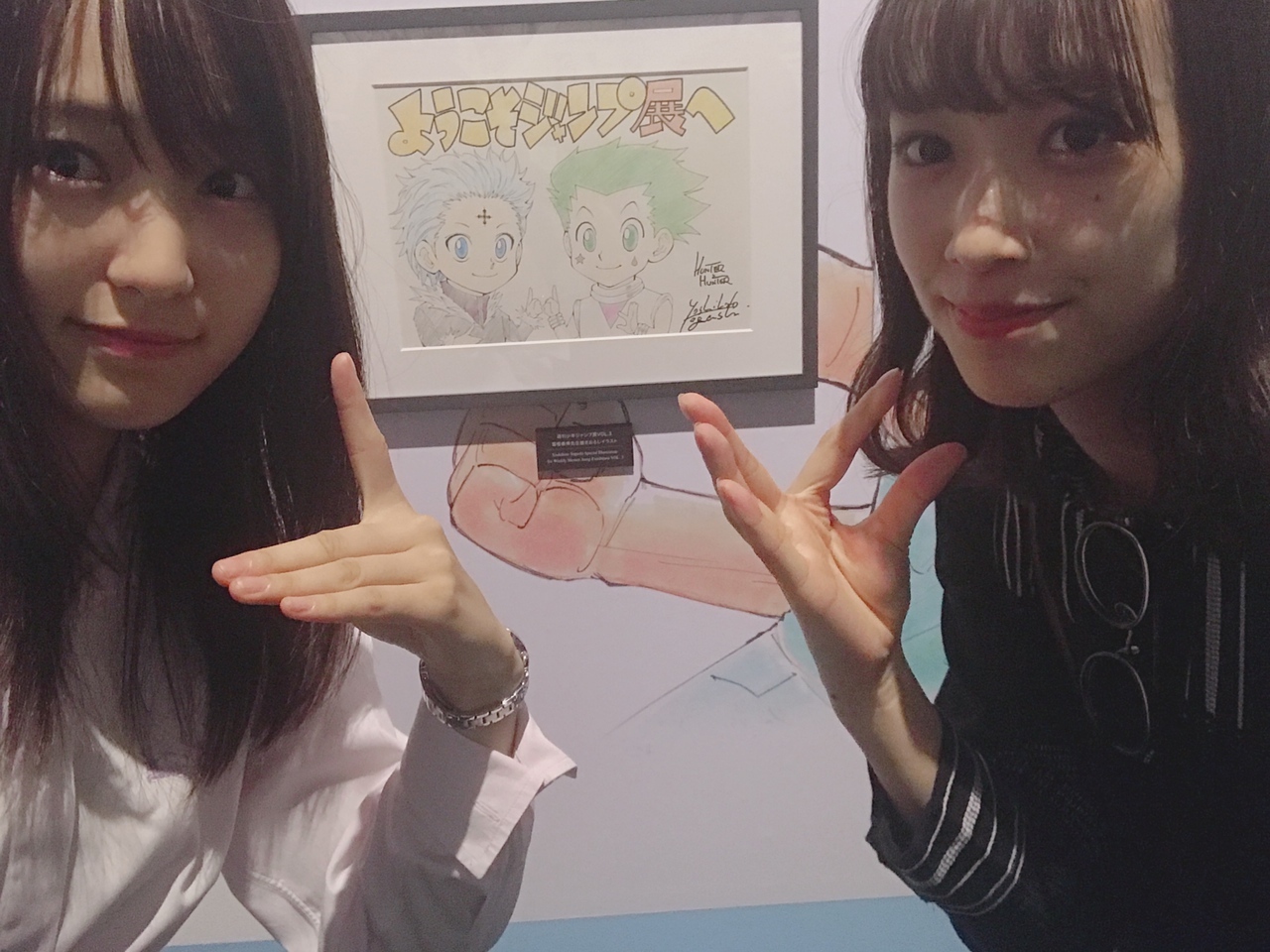 Killua doing the posture of Kuroro doing the Kanji pose.
Gon doing the posture of Hisoga doing the Hiragana pose.
This is true happiness, don't you agree? 😭😭
[TL: Not entirely sure about this. Probably need to watch Hunter x Hunter to fully understand.]
It was a truly inspiring series!
I'm really glad that I could go there with Yukari❣️
I also found a lot of manga that I have not yet read, so I want to read maaanyyyy new ones.
Everyone, let's make this the Fall of Manga together! 😳🍠
Today, I will walk on the runway at GirlsAward!
Although it's the second time, I'm still tremendously nervous.
But I will give it my best so that I don't have any regrets. 🕺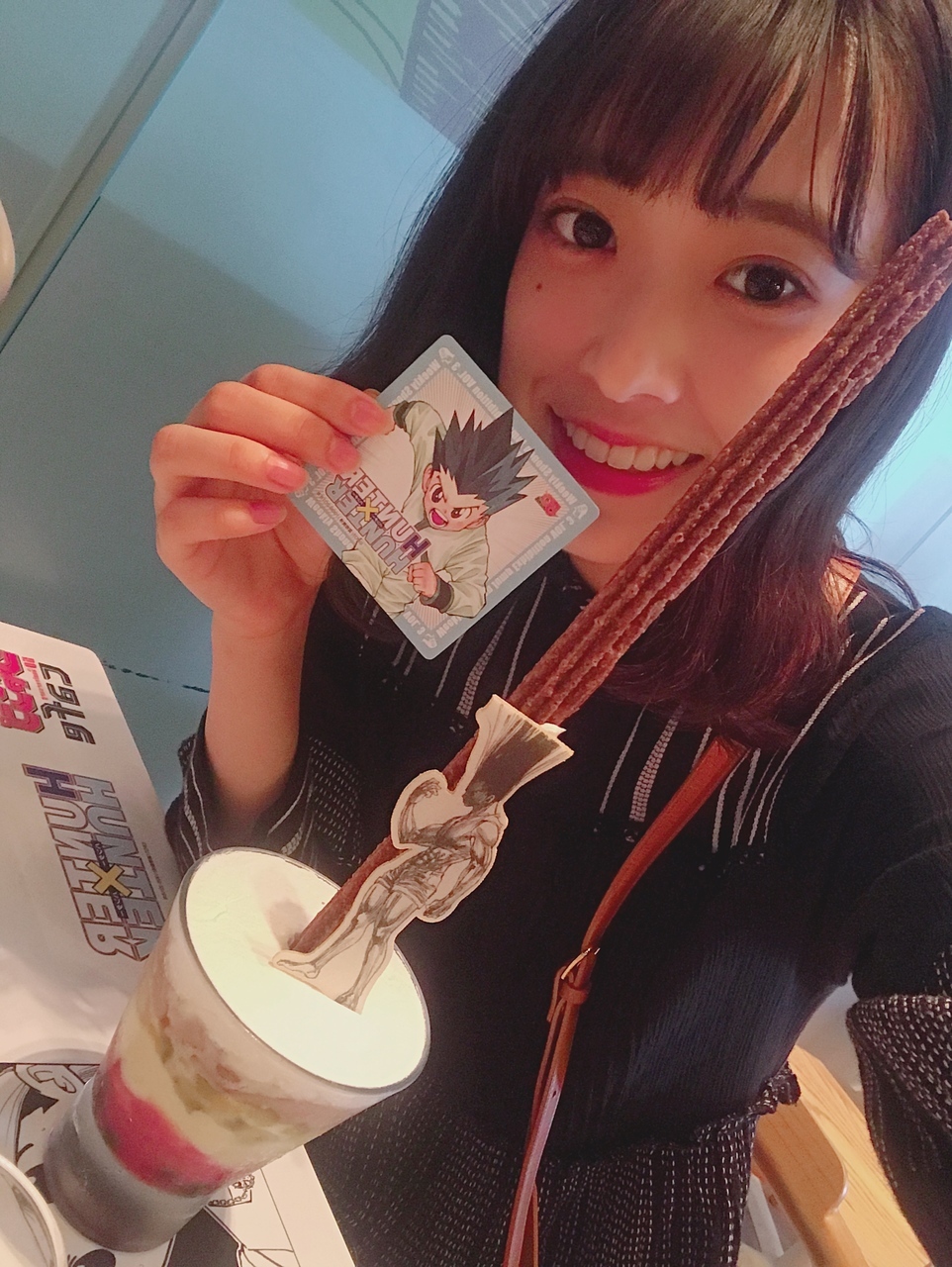 I will use my strength just like Gon. 💪
See you later( ˙-˙ )/
Kumi Sasaki
---
Japanese Original

こんばちは

好きな飲み物はと聞かれても
特になかったのですが、
私はバナナミルクが好きと言うことに
気づいてしまいました。

気づいたはいいけどバナナミルクって
なかなか売っていないんですね。

いちごみるくはあるのに
バナナミルクはないんですね。

確かに心なしかいちごみるくの方が
字面も可愛いですもんね。
バナナミルクも頑張ってほしいなって思います。

佐々木久美です。

9月11日から始まった
集英社さんのデジタルマンガ祭「秋マン‼︎2018」の
CMになんと、けやき坂から、
高本、小坂、松田、宮田、そして私の五人が
出させていただいています!!!
さらにキャンペーンソングとして
「ハッピーオーラ」が流れています!!

少しお知らせが遅くなってしまいました、、、
もう見てくださった方、いらっしゃるかな🙉?

私はマンガとともに育ってきたくらい、
マンガが大好きなので、
今回このようなお仕事ができて、
本当に本当〜に嬉しいです。

さらに、サイトでは私たちメンバーのオススメマンガも
読めるようになっているので、
是非!チェックしてみてください😳🔥

エリザベスにも会えました〜〜💘

カカシ先生もいただきました!
NARUTOはカカシ先生とシカマルが好きです。
でもやっぱりナルトも好きです🍥
ミナトも好きです。

撮影ではみんな同じ学生服を着たので、
なんだか高校生に戻った気分でした!

JUMPのキャラクターのマグネット💕

そんなマンガ好きな私なのですが、
ついに念願のジャンプ展に
ゆかりと一緒に行ってきました👼

HUNTER×HUNTERの席に座れて
嬉しそうなゆかりかわいすぎますね😚😚

ばったりぶーちゃんとまなもにも会いました。
だからガッツリ記念写真を撮りました。

もう入った瞬間から興奮が止まらなくて、
是非みなさんにも行ってほしい!!!

何と言ってもこれです。

漢字さんポーズをしたクロロの格好をしたキルア
ひらがなポーズをしたヒソカの格好をしたゴン
こんな嬉しいことがあるしでしょうか😭😭

本当に感動の連続でした!

ゆかりと行けてよかった❣️

読んだことないマンガも沢山あったので、
また新たにたっくさーん読みたくなりました。

皆さん、一緒にマンガの秋にしましょうね😳🍠

本日はGirlsAwardさんで
ランウェイを歩かせていただきます!

2回目なのですがまだまだ緊張がものすごいです。

でも、後悔しないように
頑張ってきます🕺

ゴンのように力を出し切ります💪

ではまたね( ˙-˙ )/

佐々木久美
---