Trumpet
   Date: 04.11.2018 01:40
Summary: Studio Ghibli, Halloween, Handshake Kyoto
   Tags: 
    Url: https://www.keyakizaka46.com/s/k46o/diary/detail/18012?ima=0000&cd=member
Good afterning,
I'm recording the "Friday Road Show" every week to watch it properly when I have free time.
Just recently, I watched "The Cat Returns."
While watching it on my own, I said "Hmm... So it was that kind of story..."
In "The Cat Returns," my absolute favorite is the cookie in the shape of a fish in a box, which looks like a gift.
It surely looked so yummy~
When I was little, I wanted to try to eat such a cookie.
Even now, it looks delicious to me.
Just how does Studio Ghibli make food look so tasty?
Even the herring pies always give off that feeling.
This is Kumi Sasaki.
Continuing to talk about Ghibli, I also really like their music.
I especially always love the flow of their timing and the music.
"Ah! I want to play an instrument~~"
I would like to play the trumpet that I left at home the whole time.
There are many experienced musicians in Hiragana Keyakizaka. It's my secret dream to, one day, form a band and perform together with everyone. 💎
October was over in a blink, wasn't it!
Come to think of it, we wore our Halloween costumes for the handshake event in October, about which I haven't been posting about at all. Knowing that, I'll get straight into it after a quick "I'm late!"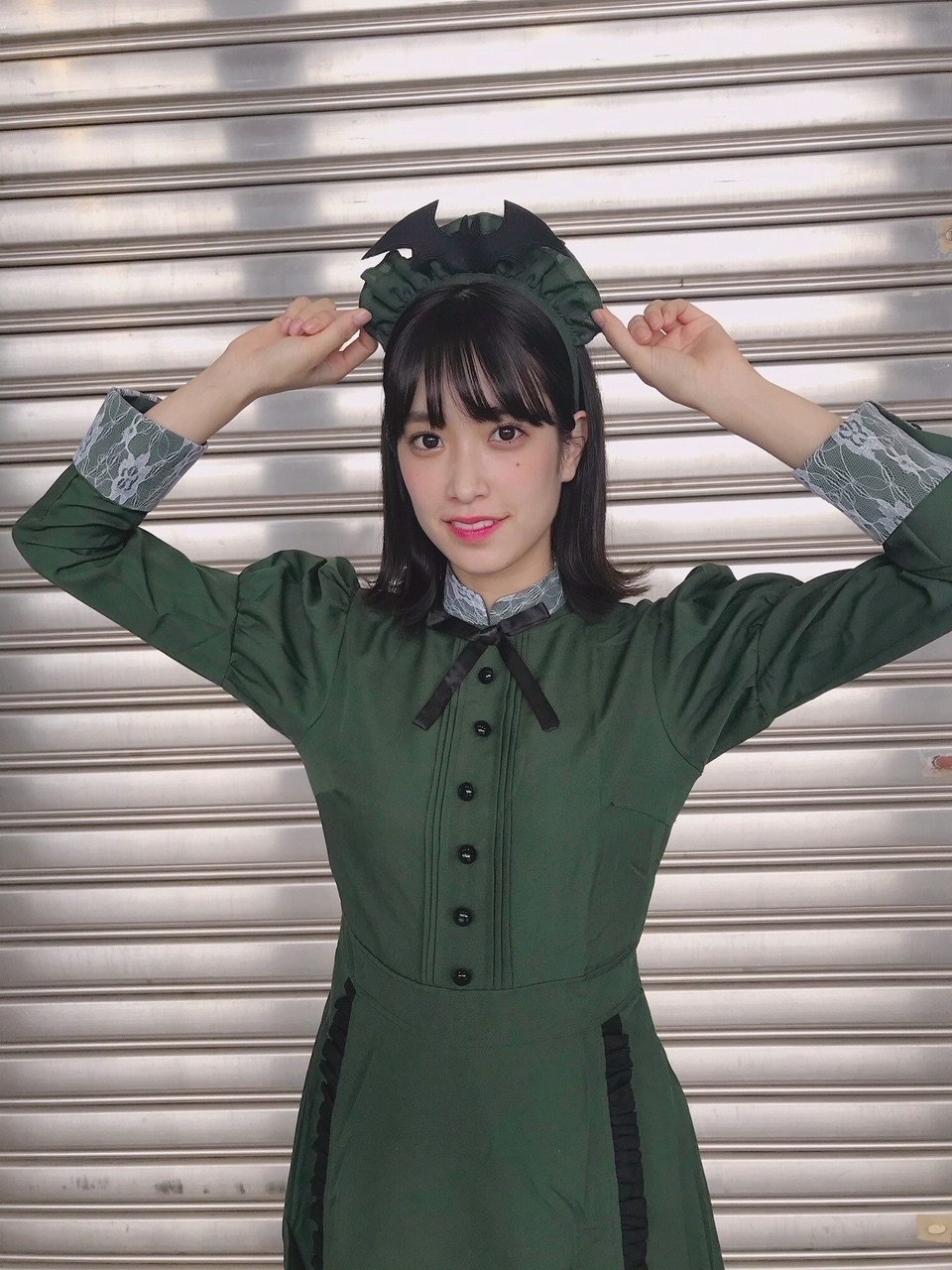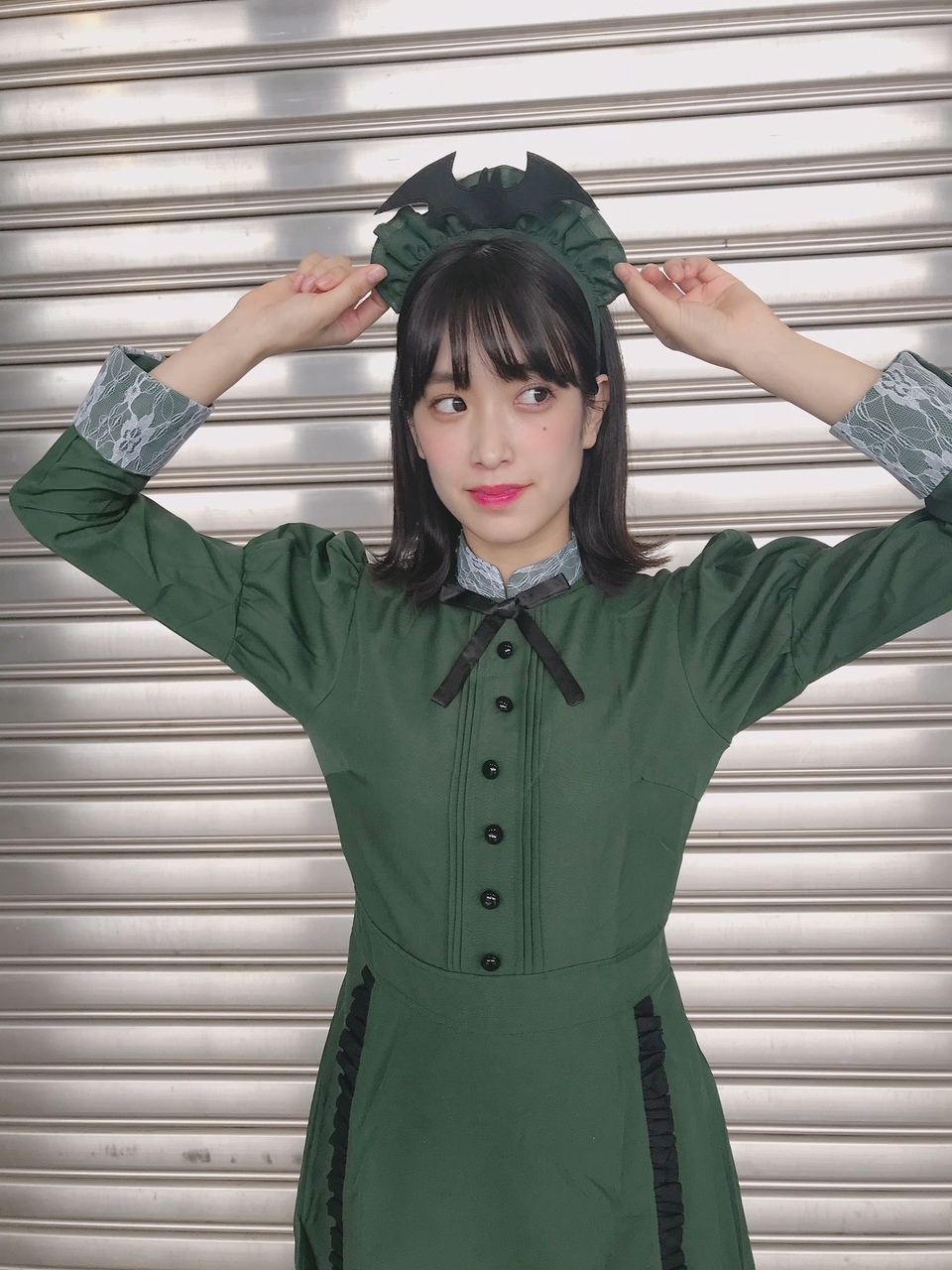 To start it off, a western-style maid. 🧟‍♀️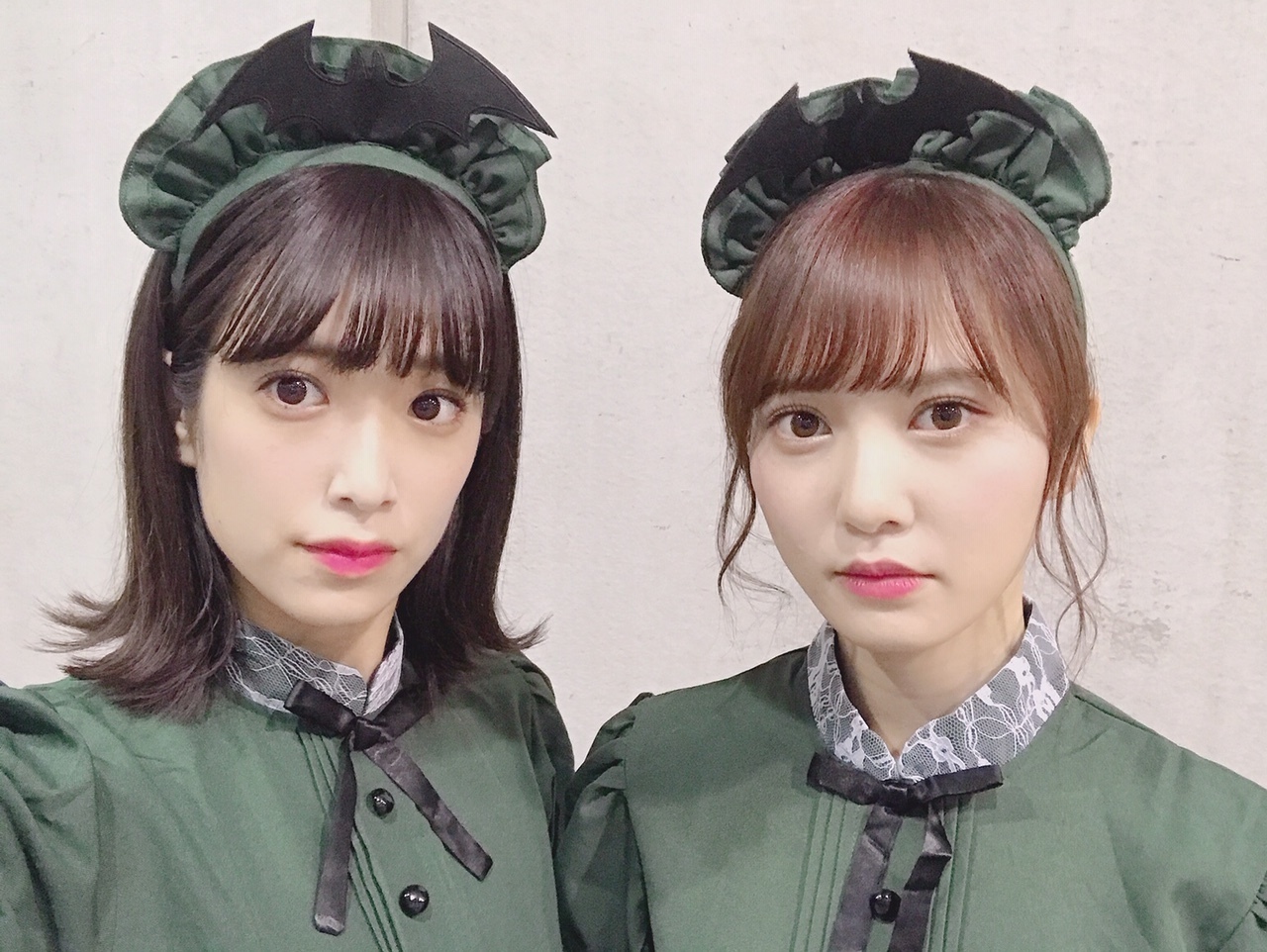 If Toshi-chan and I wear the same, Kosakana and Pii-chan of course did the same. I wanted to take a picture with everyone, but regrettably I was not able to take it.
I was able to take one together with my forever dreamland cast Toshi-chan, so it was a fun costume.
Next year, let's go to my dreamland wearing this, right Toshi-chan?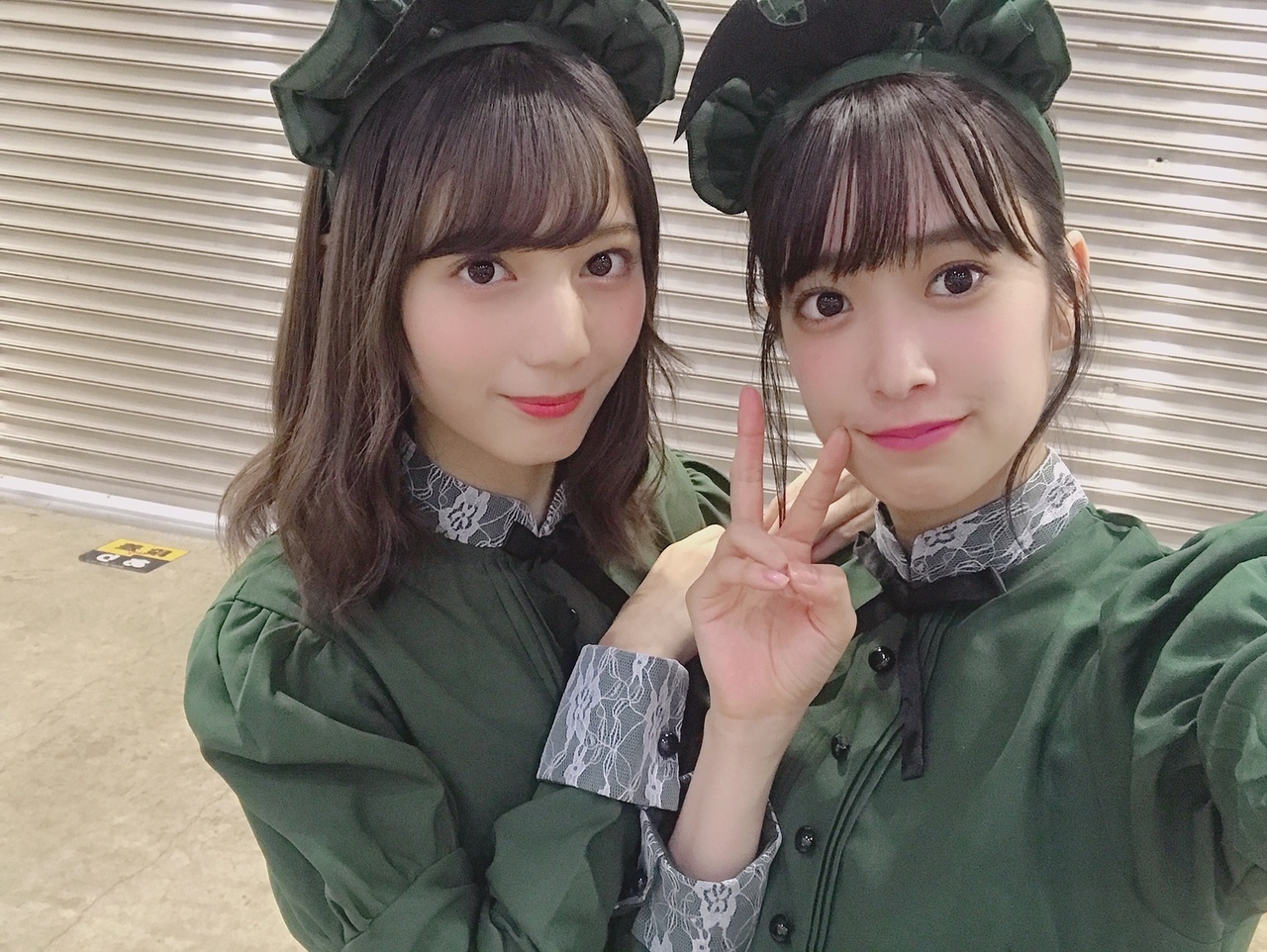 I was able to take a photo together with Koshakana 🐟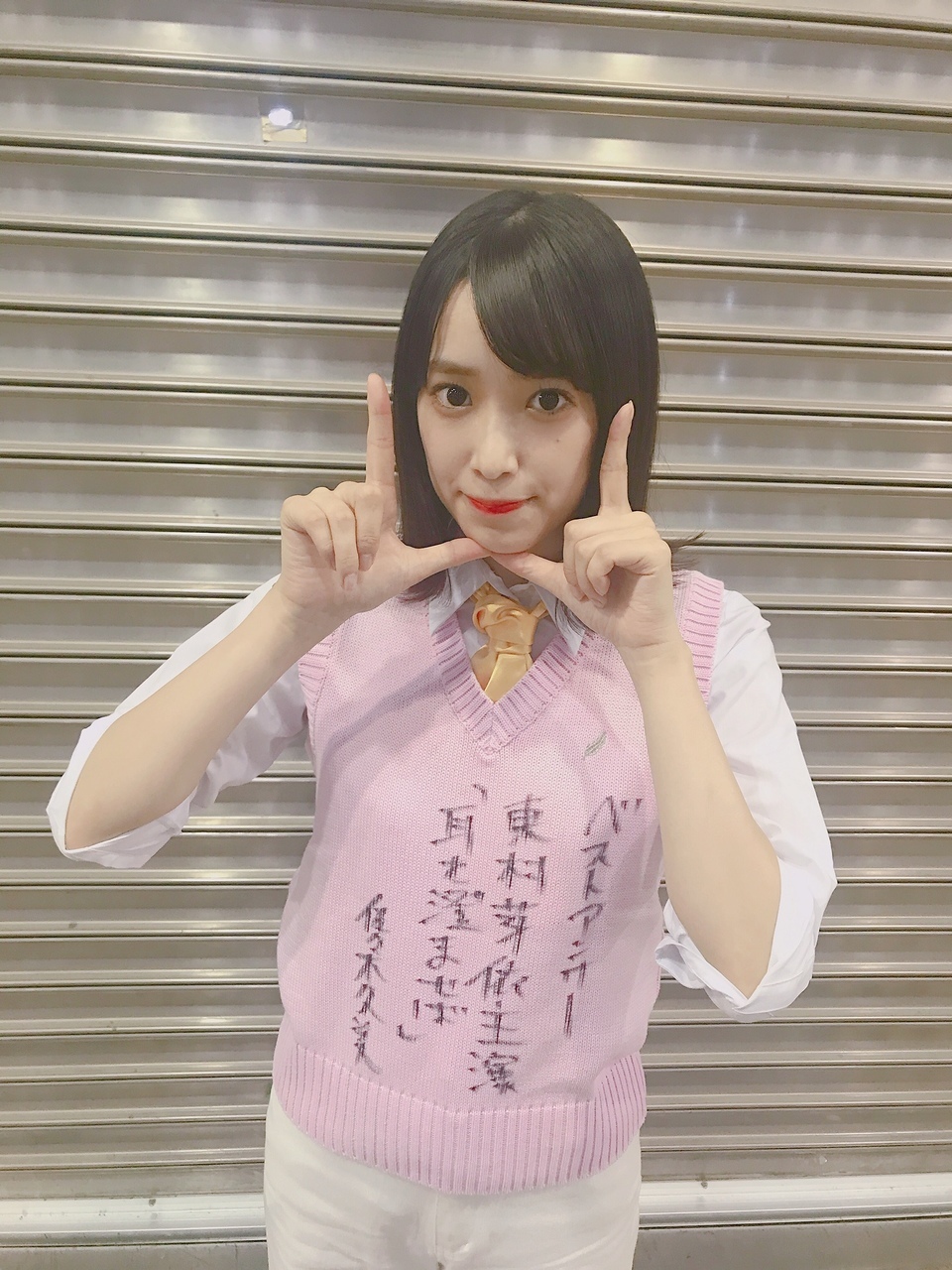 And then, I took one in Kasuga's costume. It's the vest with Kasuga's own handwriting on it that I received when shooting "Hiragana Oshi" 喜利回. 😳
You'll only get one picture as it's a little, well, embarassing laugh
I didn't even notice it that much...
I'm taking applications for someone who can do Wakabayashi's costume. I'm counting on your cooperation next year as well.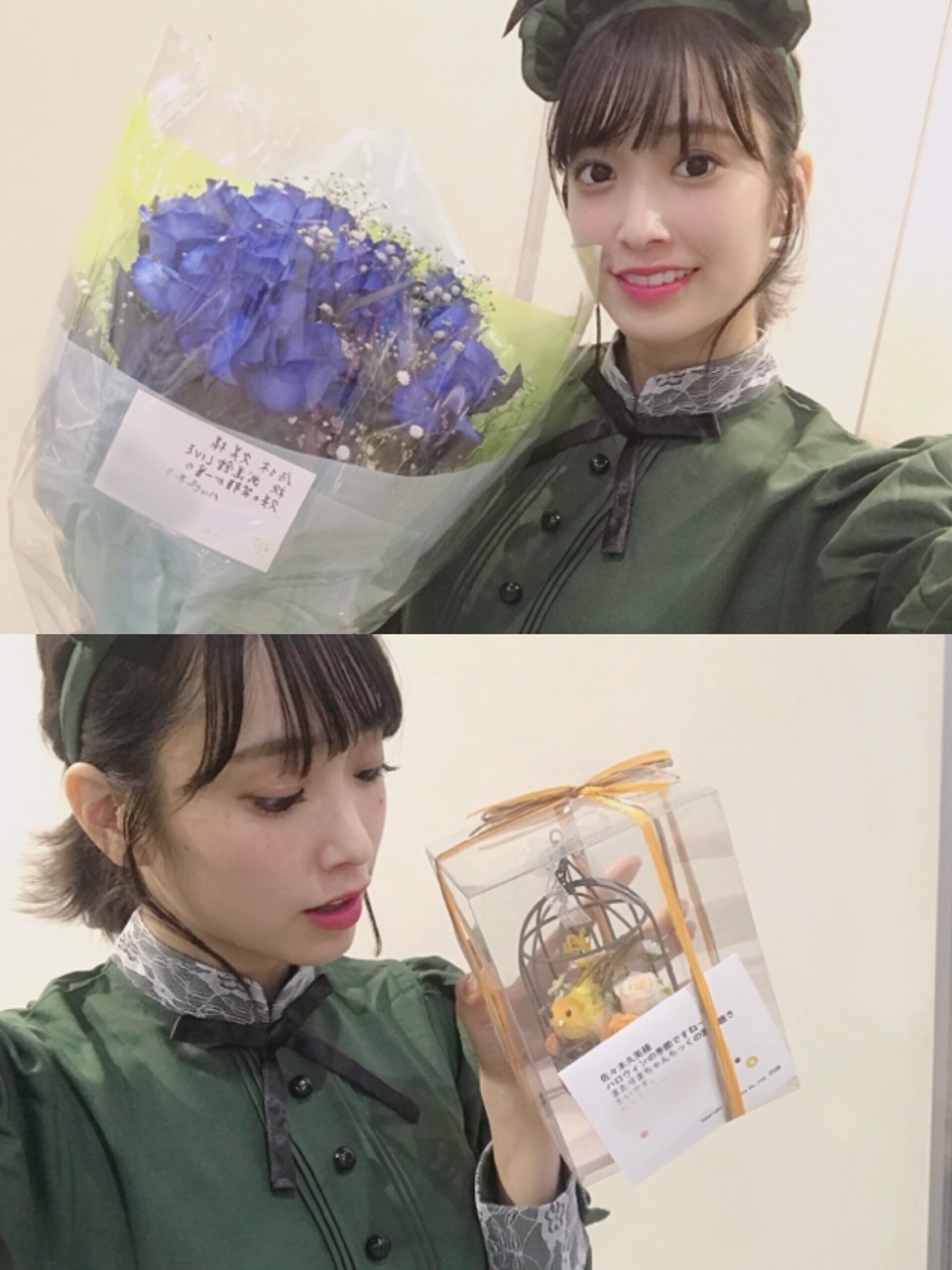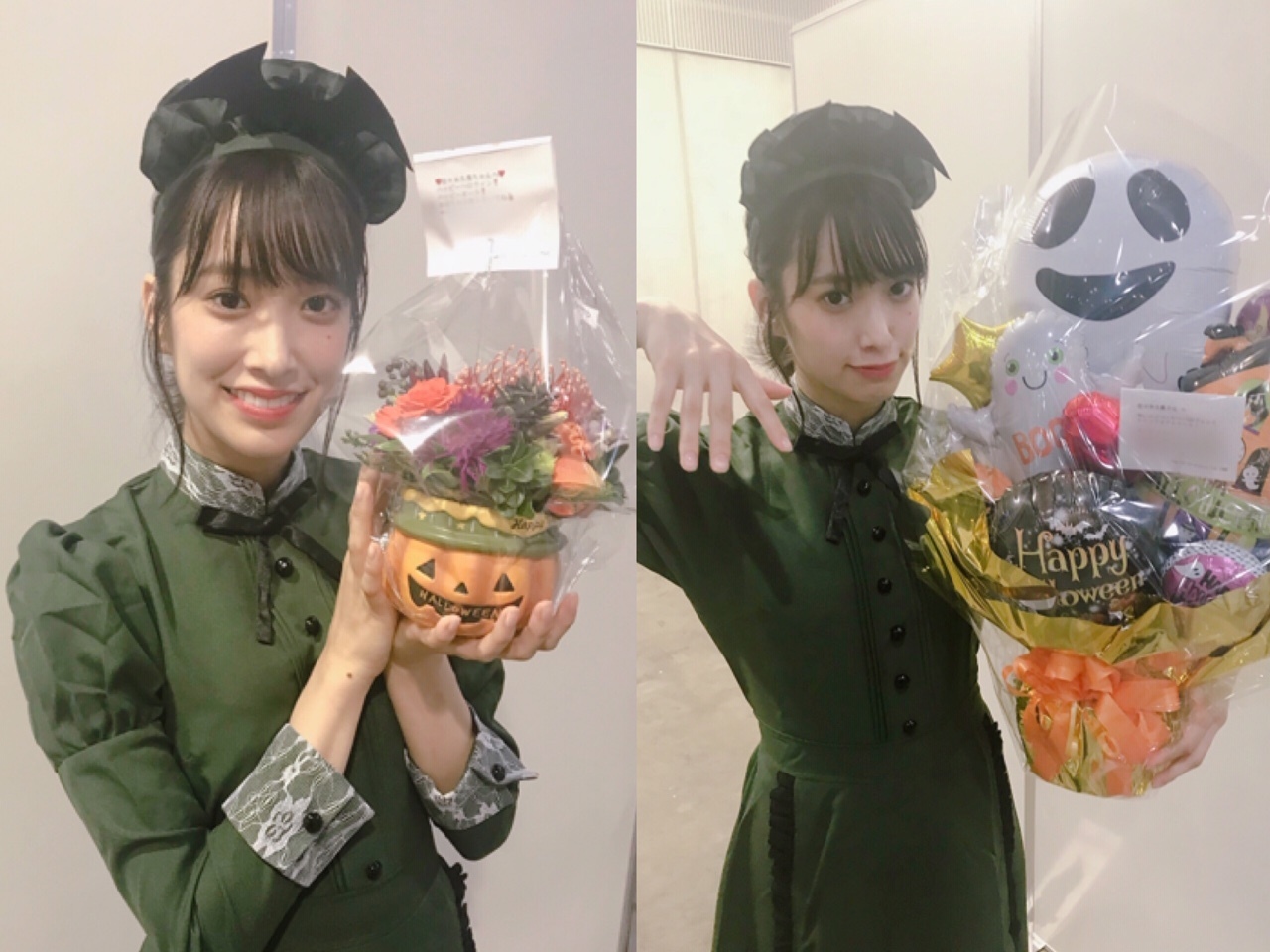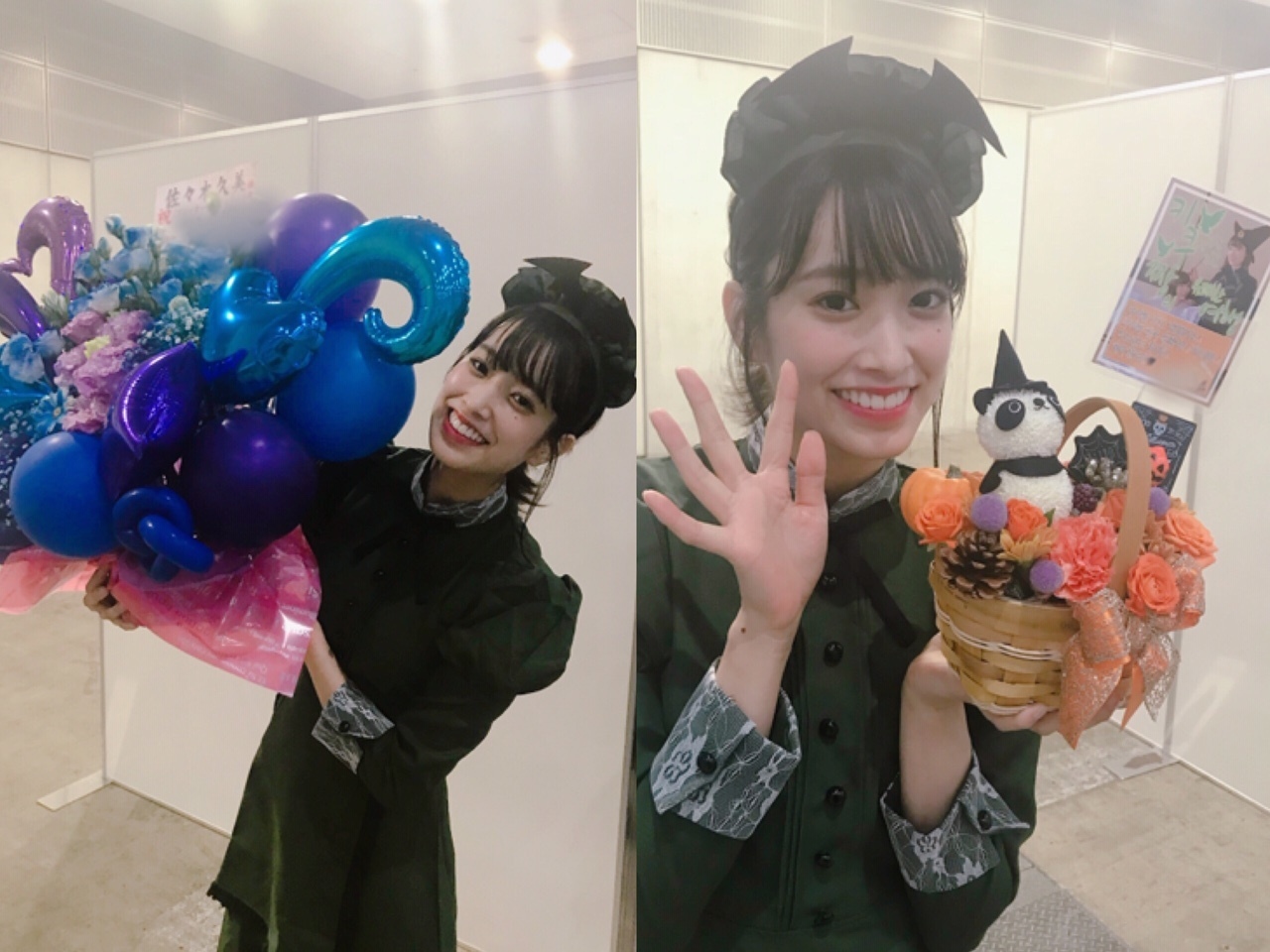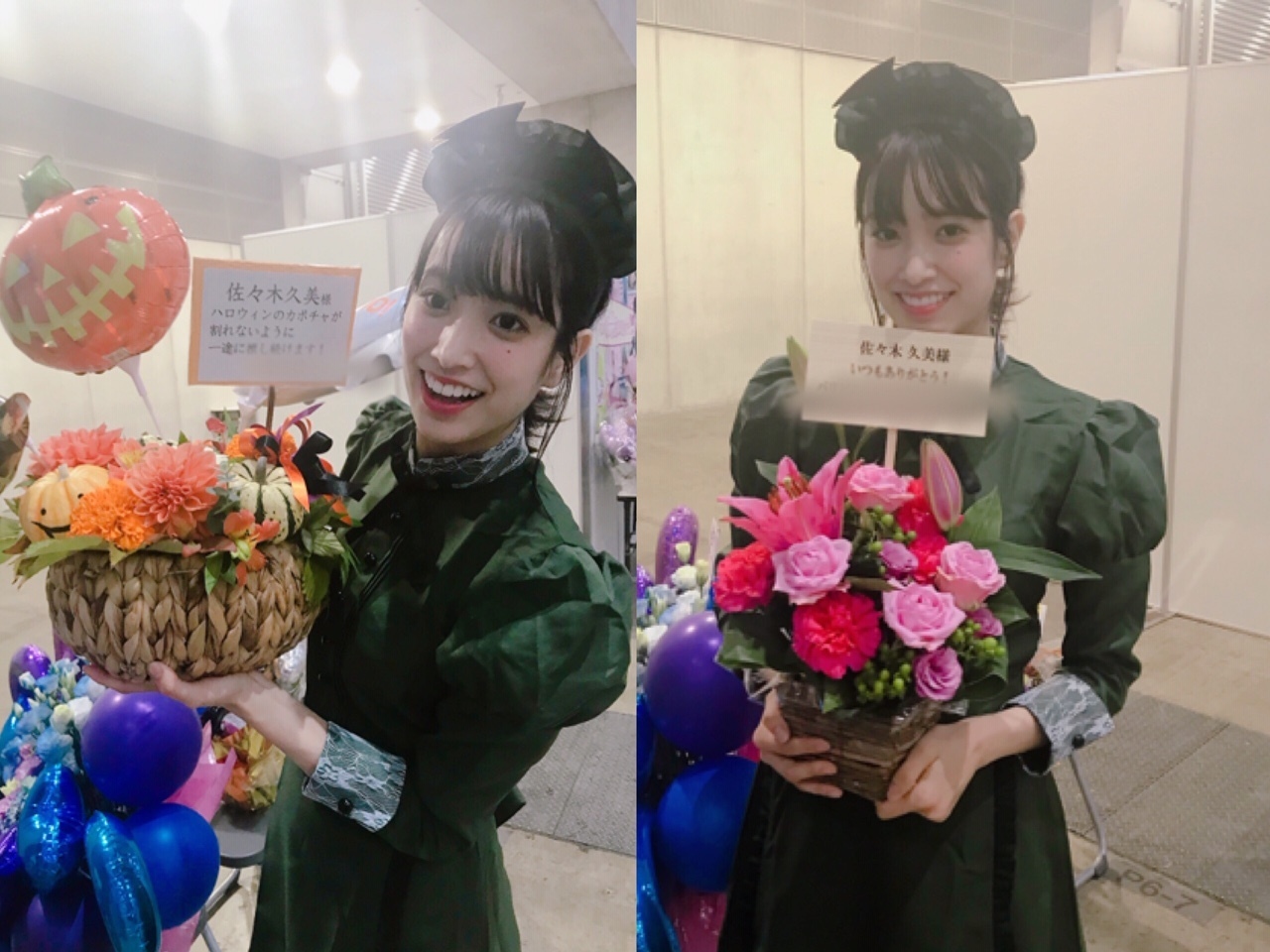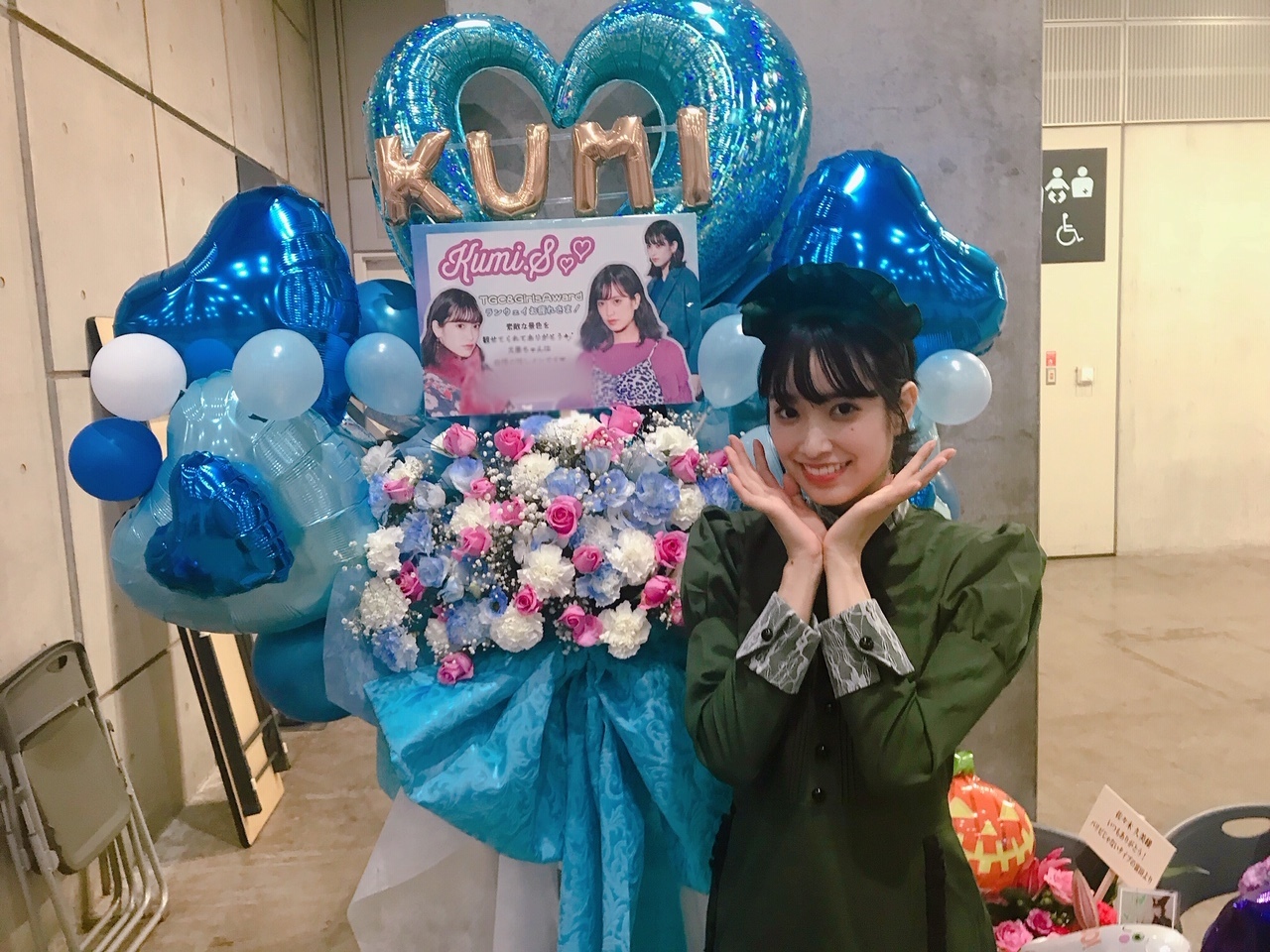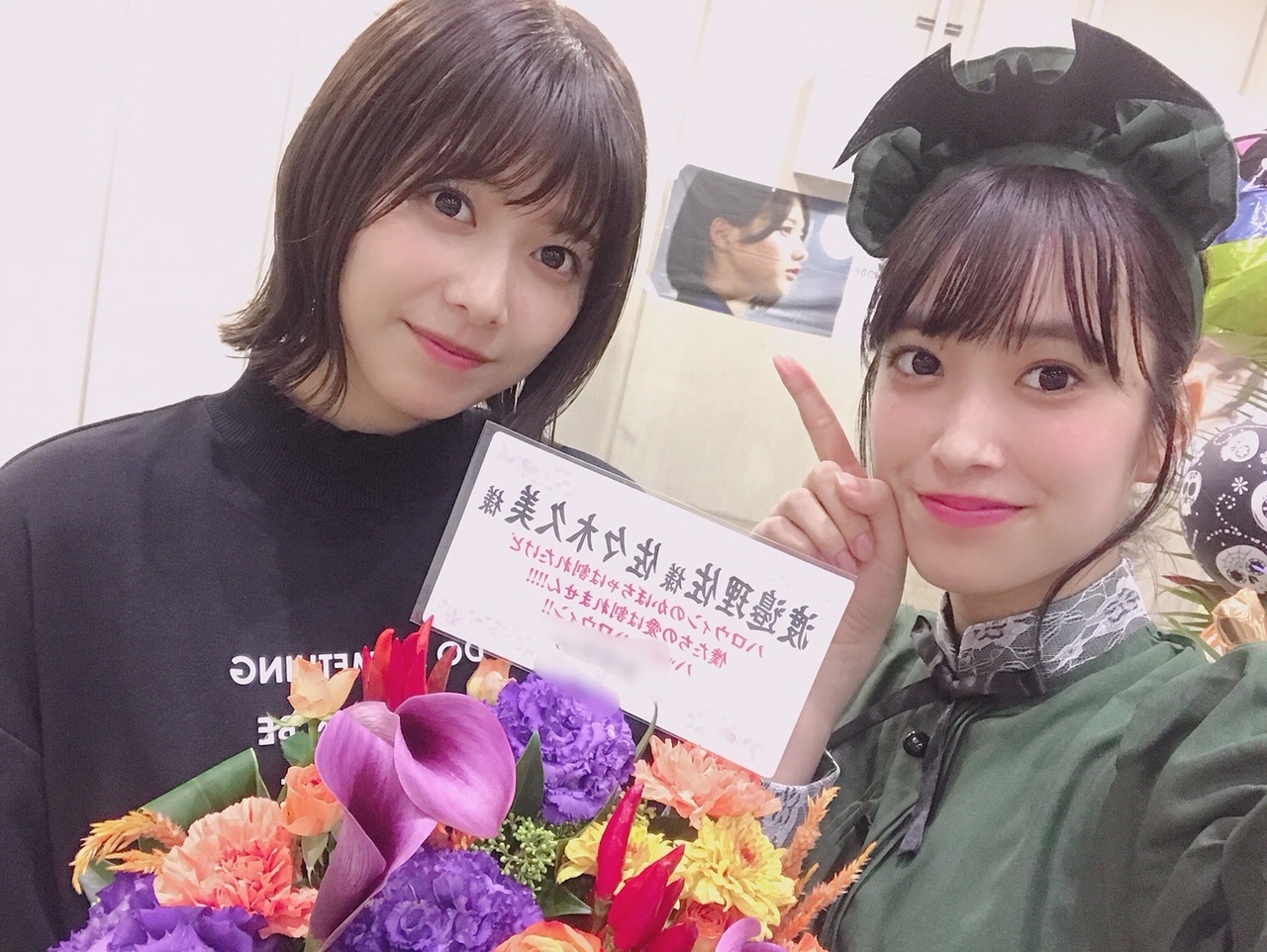 Thanks a lot for the flowers. 😊
I recently bought cute vases, so I'll use them to decorate my room~
Tomorrow is the handshake in Kyoto!
Let's look forward to what I will wear~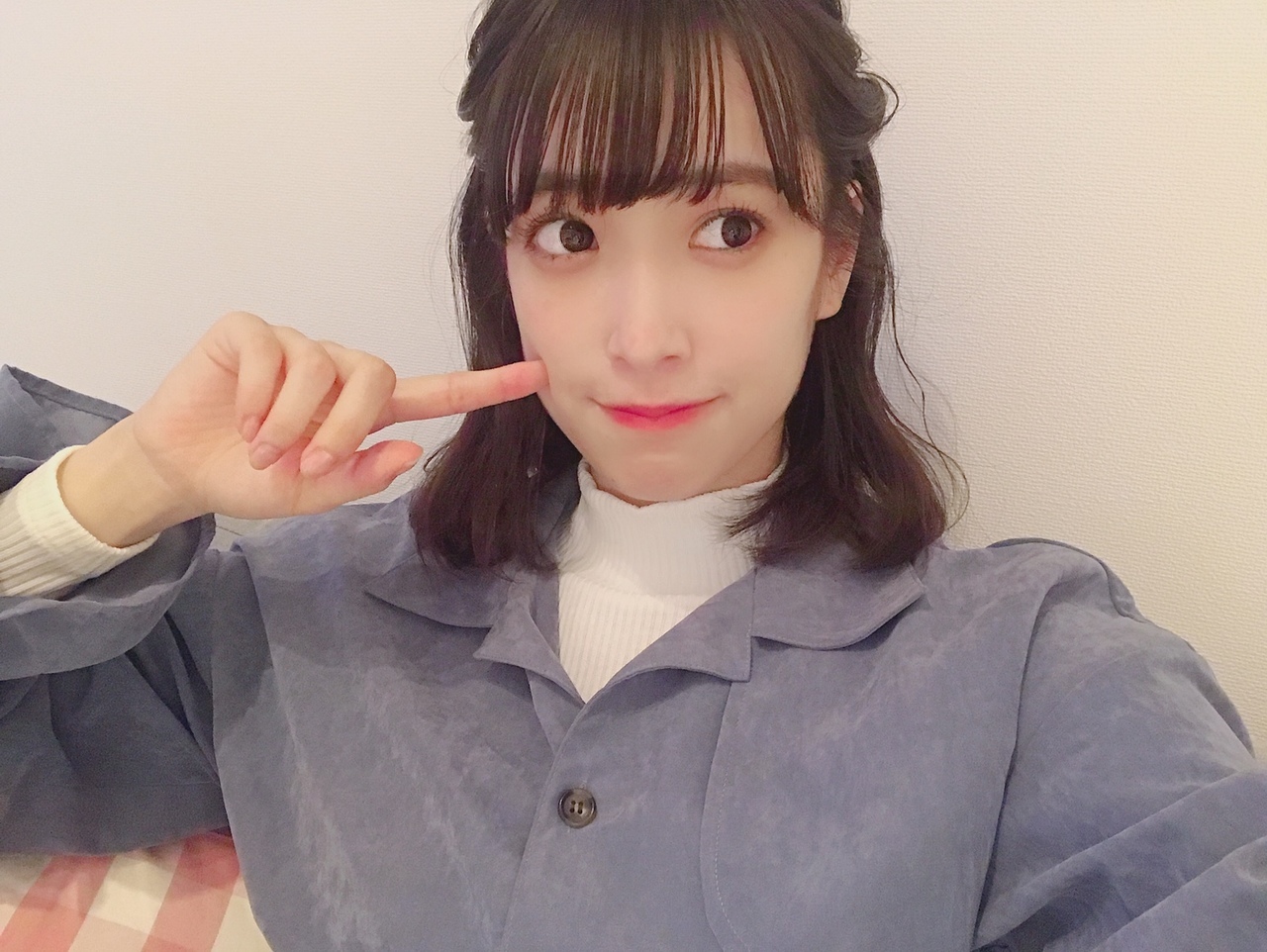 See you later ( ˙-˙ )/
Kumi Sasaki
---
Japanese Original

こんばちは

金曜ロードショーを毎週録画しているので、
暇な時に録画されている映画をよくみます。
つい最近、「猫の恩返し」をみました。

こんな話だったっけ〜って
一人で言いながら見てました。

猫の恩返しで一番大好きだったのは
プレゼントみたいな箱に入った
魚の形のクッキーです。
なんて美味しそうなんだろう〜
こんなクッキー食べてみたいって
小さい時に思っていたんです。

未だに美味しそうに見えました。

ジブリのご飯って
なんであんなに美味しそうなんでしょうかね。

ニシンのパイもずーっと気になってます。

佐々木久美です。

引き続きジブリの話なのですが、
ジブリの音楽も大好きです。
流れるタイミングも、音楽も
全部好きです。

あー楽器やりたいな〜〜って思います。
お家にずっと置いてあるトランペットを
吹いてあげたいなーって。

けやき坂には楽器経験者が多いので、
いつかみんなで楽団を作って
演奏するというのが私の密かな夢です💎

あっという間に11月ですね!
実は私、10月の握手会で
ハロウィンの仮装をしてたのですが、
ずっと載せてなかったので
遅いよ!というツッコミを承知の上
載せますね。

まず洋館のメイドさん🧟‍♀️

としちゃんとお揃いにしたら
こさかなとぴーちゃんも着てました。
みんなで写真撮りたかったけど、
撮れなかった後悔です、、。

としちゃんとずっと
夢の国のキャストさんごっこできたし
楽しい仮装でした。

来年はこれ着て夢の国行きたいね。としちゃん。

こしゃかなとは撮れた🐟

そして「ひらがな推し」の大喜利回のときに、
商品でもらった春日さん直筆入りのベストで、
春日さんの仮装しました😳

ちょっと結構恥ずかしかったので
一部だけ〜(笑)
あんまり気づいてもらえなかった、、。

若林さんの仮装してくれる方、
募集中です。来年はよろしくお願いします。

お花ありがとうございます😊
最近可愛い花瓶を買ったから
お部屋に飾ってるんだ〜

明日は京都で握手会!
何を着るでしょうお楽しみに〜

ではまたね( ˙-˙ )/

佐々木久美
---